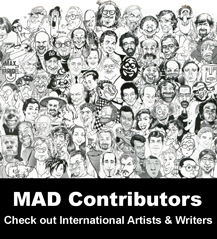 Welcome to the MAD Magazine Contributor list. We try to track every US or foreign artist, who has worked for the MAD magazine.
Everyone can contribute images and information about artists as needed, so we can collectively catalog every MAD Magazine artists. In order to start contributing please follow  this link.
MAD magazine artists are listed in alphabetical order. This list is huge, but don't worry! You can jump directly to each country by using the country select menu.
This page lists all contributors listed on  MADtrash.com. That means artists, which have contributed to non-MAD publications are listed here. All MAD contributors are marked with a ★ icon, though. All others are marked with a ☆.