When flicking through MAD magazines, one thing becomes evident: MAD has been kickin' The Simpsons' asses real hard in the past years. Naturally, the freaky, yellow family struck back and some episodes feature funny parodies of MAD in return. (I bet) you haven't heard of them. Time to sit back and expand your horizon.
Episode: Father Knows Worst
In this episode we can spot a pretty Alfred E.Neuman toy from the 1960's. It's a modified version of the Alfred E.Neuman Revell Model Kit.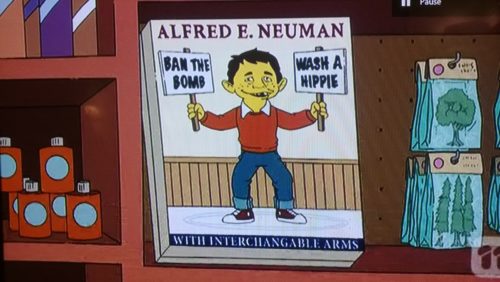 Here is the original one: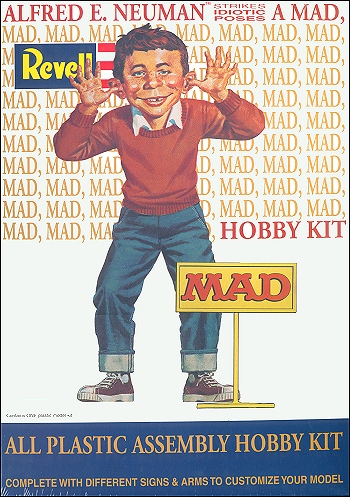 Episode: Treehouse of Horror VIII (1997)
In this Halloween episode two references to MAD are made: the title of the segment 'Fly vs. Fly' is a play on words, referring to the original title of MAD's comic strip 'Spy vs. Spy'. The object that Lisa is checking out at the garage sales is a curious figure; an optical illusion known as the MAD 'Poiuyt'.
MAD introduced the figure in 1965; the magazine #93 featured the 'Poiuyt' on the cover. The name 'Poiuyt' is made from the last 6 letters on the top row of a keyboard (right to left). It also appeared on the 1968 cover of the German MAD magazine #5.
Episode: Make room for Lisa (1999)
Bart, Lisa and Homer go to a travelling exhibition which is sponsored by a telecommunication company. While the camera sweeps the room we see the Bill of Rights and the Statue of Liberty, and catch a glimpse of a figure similar to Alfred E. Neuman: Howdy Doody, a freckled-faced boy marionette (1947); a character that bears a strong resemblance to Alfred E. Neuman.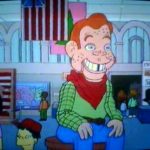 Episode: Bart of Darkness (1994)
The Simpsons get a new swimming pool. Bart breaks his leg while trying to jump into the pool and has to spend the rest of the summer sitting by the window. His isolation makes him act a little weird, and as people do when they feel a little mad – they read MAD – with Alfred dressed in a police uniform on the cover of the edition titled 'NYPD Blecch'. Bart reads aloud: "So, what have we here? 'The lighter side of hippies'. They don't seem to care whose toes they step on." [he laughs strangely]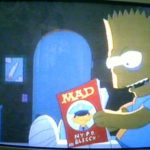 Episode: The Sweetest Apu (2002)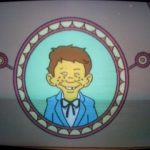 After being kicked out by his wife for cheating on her, Apu attempts to commit suicide. He sees his past lives in a circular form of a Mandala: a tiger, snake, jerk, goat, Apu (present), and the future as a – tapeworm. Then Homer saves him and brings him back to life.
Episode: Team Homer (1996)
This episode is a true gem. MAD references are made throughout the entire episode. It starts with Bart and Milhouse at the comic book store checking out their latest stuff.
Six Magazines are on the Shelves:
MAD:  The one and only
CRACKED:  MAD's competitor in the US
PUNCH:  British magazine of humor that went bankrupt in 2002
Sick:  MAD's former competitor in the US. Last issue appeared in 1980
Sniff, Poot:  Made up names; referring to bodily functions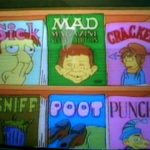 Bart snatches the MAD magazine and shouts, "My God, the MAD Magazine Special Edition! They only put out 16 of these a year."
Milhouse: "Boy, they're really socking it to that Spiro Agnew guy. He must work there or something."
Bart and Milhouse check out the fold-in at the backside of the magazine. MAD's Fold-In caption: "What higher power do TV evangelists worship?"
Bart: "I'll say God."
Milhouse: "I'll say Jesus."
The good answer is: 'The Almighty Dollar'! Bart buys the magazine. Later at home, Homer flips through it.
The story continues.
When Bart wears a t-shirt with the iron-on slogan that says "Down with Homework", it's causing a little revolution at school. He is sent to the principal, Seymour Skinner.
Skinner: "So, we meet again, MAD Magazine."
Bart: "How do you know it's from MAD?"
Skinner: [walking to the window] "The year was 1968. We were on recon in a steaming Mekong delta. An overheated private removes his flak jacket, revealing a t-shirt with an iron-on sporting the MAD Slogan "up with mini-skirts". Well, we all had a good laugh, even though I didn't quite understand it. But our momentary lapse of concentration allowed Charlie to get the drop on us. I spent the next three years in a POW camp, forced to subsist on a thin stew on fish, vegetables, prawns, coconut milk, and four kinds of rice. I came close to madness trying to find it here in the States, but they just can't the spices right?!"
Episode: The City of New York vs. Homer Simpson (1997)
For the first time we see the MAD headquarters in New York City. The Simpsons go to New York to pick up their car. While Homer gets the car, the rest of the family goes on a city tour. Bart visits the MAD offices.
Bart: "Excuse me, is this MAD magazine?"
Secretary: "No, it's Mademoiselle. We're buying our sign on the installment plan."
Bart: [laughs] "Seriously though, my name is Bart Simpson. My father has a subscription. I'd like the grand tour please."
Secretary: "Listen kid, you probably think lots of crazy stuff goes on in here, but this is just a place of business."
Bart: "Oh, ok."
[Bart is just about to leave, when Alfred E. Neuman steps out of his office]
Alfred: "Get me Kaputnik and Fonebone. I want to see their drawings for "New Kids on the Blecch!". And where's my fershluggener pastrami sandwich? [closes door] Bart: "Wow! I'll never wash these eyes again!"
Image 1:  Alfred coming out of his office. The white spy holding a bomb can be seen in the background.
Image 2:  Don Martin (or one of his characters) on a pogo stick.
Image 3:  The guy wearing green pants is Dave Berg; Jack Davis and Angelo Torres – the latter walking on the ceiling using suction cups – are famous MAD artists too.
Episode: Marge in Chains (1993)
Something really odd has happened: Marge Simpson is arrested for shoplifting.
In prison, Marge meets an inmate called Tattoo Annie, who pulls her shirt off to show Marge her back tattoo.
Marge: [reading] "What kind of slime would I marry?" Hmm, I don't understand.
Tattoo Annie: "It's one of those MAD Magazine fold-ins."
[Annie pushes her shoulder blades together and reveals Alfred E. Neuman with the text "What me Worry?"]
Marge: "Oh, impressive!"
Episode: New Kids on the Blecch (2001)
It looks like MAD has moved to a new headquarters; a skyscraper with a huge three-dimensional replica of Alfred's head mounted on the roof. Unfortunately, the building gets blown up by missiles later on.
Bart and three of his friends form a boy band called 'The Party Possy'. Their manager is Navy Lieutenant Smash. They are booked to play a gig on an aircraft carrier, when L.T. Smash finds out that MAD magazine plans to publish a defamatory article about the band. He shows them the issue of the magazine featuring 'The Potty Posse' on the cover. They fear for the band's reputation. L.T. Smash plots to use the craft's missiles to destroy the MAD offices.
"Not MAD!" screams Homer, "the only humoristic magazine we've got with topics for lunatics."
Nelson says: "We can't allow L.T. Smash to blow up MAD, Tina Brown is just about to gain power."
The only way to calm everybody down would be to perform the ultimate ballad with NSYNC but it's already too late. The missiles fly and can't be stopped. In the meantime, at the MAD headquarters; the editorial staff tries to come up with a name for the show 'Everybody Loves Raymond'.
Editor no.1: "Why don't we simply call it "Everybody Hates Raymond", [everybody laughs].
Editor no. 2: "We've been up all night, but that was worth it."
Just a few seconds later the missiles hit the building and destroy it completely. All magazines are torn into pieces and spread over town.
When the MAD team frees itself from the ashes, someone asks if anybody was hurt. Strangely enough everybody is fine. One of the editors says: "I'm feeling better than before." Meanwhile on the aircraft carrier: L.T. Smash says: "Boys, The Party Possy is history, but at least I saved you from making a fool of yourselves in public." Shreds of MAD magazines rain down on the ship. Bart says: "Ah, darn, we would have been on the cover of MAD magazine" Nelson laughs: "Hey, look they called me 'Smellson', ha ha!" [everybody laughs, except Smash]
Homer: "Smellson! It's funny 'cuz you smell."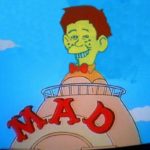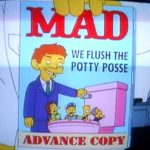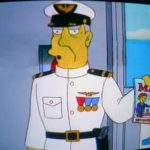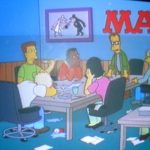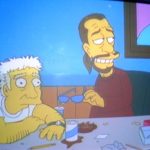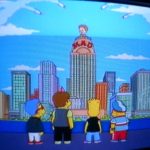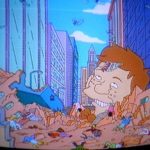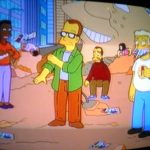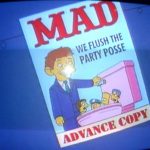 Episode: The Twisted World of Marge Simpson (1997)
The episode's title is a reference to catchy expressions used in MAD e.g. "The Twisted World of Don Martin"
The verb "to twist" also refers to the pretzels that Marge sells in this episode.
Episode: Separate Vocations (1992)
After taking career aptitude tests, Bart wants to become a police officer. Principal Skinner turns Bart into the school prefect and wants him to monitor the school hall in future. Bart is being taken to the seized property room by Principal Skinner where salacious halter tops, complete collections of MAD, Cracked and the only issue of Crazy are stored. On the cover of the MAD magazine: Alfred E. Neuman is pictured with the caption "In this issue: Beauty and the Blecch!"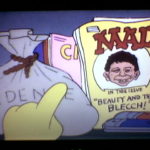 Futurama
Numerous references to MAD can not only be found in The Simpsons but also in Futurama, an animated sci-fi sitcom by Matt Groening. Bender, the robot sprays graffiti on the side of a building, saying "Bender Lives Large and Kicks Butt." When the building is demolished, his phrase is reduced to "Bender Licks Butt", a typical MAD fold-in.
Author: Rene Binder
translated by: cbtranslations