We Want Your Caribbean MAD Magazines
MADtrash.com is looking for some very special MAD magazines, which were most-likely sold in Puerto Rico, Bolivia and Venezuela a long time ago.
MADtrash.com está buscando algunas revistas muy especiales de MAD, que probablemente se vendieron en Puerto Rico, Bolivia y Venezuela hace mucho tiempo.
These magazines were written in Spanish language and they are all marked with 'Edicion Caribé' and 'En Espanol' on the front cover. The picture below shows these typical charateristics:
Estas revistas fueron escritas en idioma español y todas están marcadas con "Edicion Caribé" y "En Español" en la portada. La siguiente imagen muestra estas características típicas: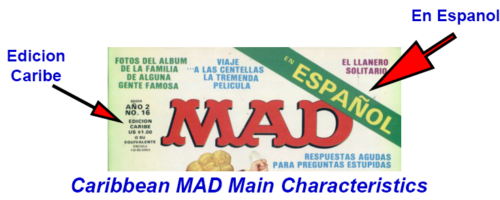 The following images show the content table page:
Las siguientes imágenes muestran la página de la tabla de contenido:


Do you have such MAD magazines for sale? Or do you know comic shops, friends, marketplaces or any other resources, which might have some of these Caribbean MAD magazines for sale or trade? Please contact by sending a mail to:
¿Tienes esas revistas de MAD para la venta? ¿O conoce tiendas de cómics, amigos, mercados o cualquier otro recurso, que pueda tener algunas de estas revistas del Caribe MAD para la venta o el comercio? Por favor contacte enviando un correo a:
We do really appreciate your help!
Realmente apreciamos su ayuda!
The following gallery shows known covers of the Caribbean MAD magazine:
La siguiente galería muestra portadas conocidas de la revista MAD del Caribe: