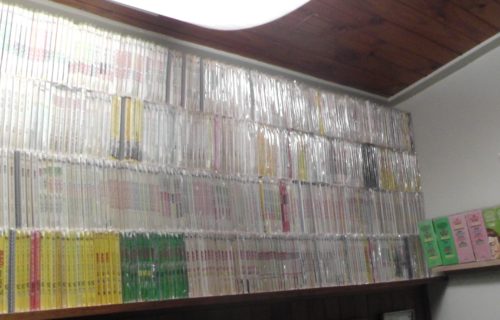 For about 35 years, off and on, I have been reading and collecting MAD.
It hasn 't been easy to collect, certainly not in the early 1980's. Especially as I live in Australia.
Here in Australia, we have our own MAD Magazine. …much of it is the same as USA …but we often got our own front covers and a few pages of local content. …it 's kind of a nice idea to have our own magazine – however, the Australian articles were often un-funny and poorly drawn. So I didn 't really like them.
Because of the disappointing local material in the magazines…and with USA magazines very, very, hard to find, my attention turned to the MAD paperbacks. They WERE available, new, in book-shops here…and did turn up from time to time in second-hand book shops. To me, the paperbacks were special, because they are  authentic USA publications !!
I also liked the look and feel of paperbacks – and unlike the magazines, I had a good chance to collect them ALL. …and in the late 1980's, I did complete what I considered to be a set. Every title and Signet/ Warner cover variations. Hung on to them for years, but eventually lost interest and sold them.
THEN eBay came along and I looked the paperbacks up. …and there were these big lots of 50 or 100…for under $100 …and I couldn 't believe my eyes. …the most I 'd seen for sale in the 1980's was about 5 at once ! I realised I could get a basic set again, for just a few hundred dollars. So I did that. …but because I was buying in bulk, I got cover variations such as different coloured titles etc. …and couldn 't bare to get rid of them. …so the collection started to grow and grow. Then I read about how Bill Gaines had kept all the MAD paperback titles in print and how that meant there were lots and lots of printings…it seemed like a challenge too good to resist…so I decided to try to get every single printing. I have been at it for about ten solid years now and now need only around 50. …but I have collected around 2000 different printings. …and collected paperback gift-sets too.
…anyone wanting to help me complete my collection (contact me here):
The MAD Reader: 2nd, 3rd, 4th, 5th, 7th, 10th, 11th (Canada), 12th, 15th, 16th, 17th  (Canada), 50thAnniversary 2nd
MAD Strikes: 2nd, 3rd, 6th, 7th, 8th, 9th, 12th, 13th, 16th + 50th Anniversary 3rd
Inside MAD: 2nd, 7th, 8th, 14th, 16th,  50th Anniversary 2nd
Utterly MAD: 5th, 6th, 11th, 12th, 3rd revised
Brothers MAD: 2nd, 3rd, 4th, 7th, 3rd revised
Bedside MAD: Signet 3rd  ,7th  (Canada), 13th
Son of MAD: Signet 2nd, 8th
Organization MAD: Signet 2nd, 8th,    50th Anniversary 2nd, 3rd
Like MAD: Signet 2nd, 5th
MAD Ides: Signet 2nd, 4th
Fighting MAD: Signet 3rd, 5th
MAD Frontier: Signet 4th, 6th UK
MAD in Orbit: Signet 2nd, 1st (Canada),6th
Voodoo MAD: Signet 2nd, 14th
Greasy MAD: Signet 2nd
Three Ring MAD: Signet 2nd
Self-Made MAD: Signet 2nd
The MAD Sampler: Signet 2nd
World, World MAD: Signet 1st (Canada), 2nd, 6th
Questionable MAD: Signet 4th
Indigestible MAD: Signet 2nd
Burning MAD: Signet 2nd
Dirty Old MAD: 1st(Canada)
Non- Violent MAD: 1st(Canada)
Recycled MAD: 1st(Canada),Warner: 11th?
MAD at you: 6th
Vintage MAD: 3rd, 7th
Medicine MAD: 3rd
Sergio Aragones:
MAD-ly Yours: 1st Canada, 4th USA
MAD as the Devil: 6th
MAD Marginals: 4th
Dave Berg:
Dave Berg looks at the USA: Signet: 2nd, 6th
Dave Berg looks at Things: Signet 3rd
Al Jaffee:
SNAPPY #1 Spews: Signet: 2nd, Warner: 10th
SNAPPY #2 Spews Out More: Signet: 1st UK, 6th, (Warner:1st,UK?)
Al Jaffee: Signet Series.
Al Jaffee Gags: 2nd, 5th
Al Jaffee Gags Again: 3rd
Al Jaffee Blows his Mind: 2nd
Al Jaffee Next Book: 2nd
Rotten Rhymes: 2nd,  4th?
Al Jaffee Draws a Crowd: 2nd
Al Jaffee Sinks To A New Low:  2nd, 3rd, 5th
Al Jaffee Meets His End: 2nd
Records: 2nd, $1.75 – need 2nd or 1st $1.95 perhaps, 5th
Dead or Alive: GOT 1st $1.75 – need 2nd or 1st $1.95 perhaps
Al Jaffee Blows a Fuse: 2nd ?
Willie Weirdie #3 Zaps:  1st $2.50 ?, 2nd
Don Martin:
Don Martin steps out: Signet: 3rd, 7th, 10th, Warner: 11th
Don Martin bounces back Signet,4th,5th,9th UK? War:1st (Canada)
Don Martin carries on: 7th
Don Martin forges ahead: 10th
Nick Meglin:
Superfan: Signet 2nd
Antonio Prohias:
Spy #1: Signet: 2nd, Warner: 2nd
Spy #5: Warner: 6th
Leave Andrew a Message