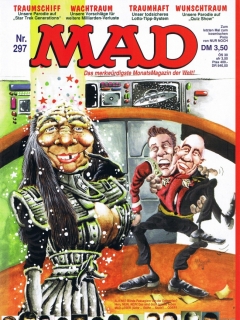 - 2nd image is the first draft of Gregor Mecklenburg for this issue.
Table of Contents
Neulich in der Kneipe
Contributors:

Page:

4
MADs sicheres Lotto-System
Page:

5
Warum nur glauben wir...
Page:

8
Filmparodie - DIE STAR DRECK SAGA
Contributors:

Page:

10
Nachrichten, die MAD aus dem Weltall erreichten
Page:

18
Daves eindeutige Ansichten und zweideutige Einsichten
Contributors:

Page:

20
Die marode mongolische Monster-Mission
Contributors:

Page:

23
TV Warnungen, die wir dringend brauchen
Page:

24
konstruktive Vorschläge für die vernünftige Verwendung weiterer Steuer-Milliarden, ehe die wieder im östlichen Sumpf versickern
Contributors:

Page:

26
Der zweite grosse MAD Abo - Eignungstest
Page:

28
Filmparodie - MIST SHOW
Page:

29
Drama auf Seite 34
Page:

34
MAD Faltblatt - Wo erfährt man heute noch was über Gesund- oder Krankheit ? Beim Arzt nicht mehr ! Vielleicht im....
Contributors:

Page:

35
Back Cover: Postergalerie - Alfred E. Cousteau
This page was created on 13th January 2011 10:46 pm