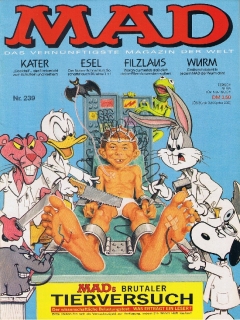 - The Don Martin story on the back cover is actually not drawn by Don Martim himself. An unknown German artist copied the style.

Table of Contents
Fragen sie Alfred & Leserbriefe & Jetzt klaut er auch noch
Page:

3
In Borneo, hinten rechts
Contributors:

Page:

4
Filmparodie - KOTZTEIL
Page:

5
Kleine, aber aufschlußreiche Merkmale, an denen du erkennst, daß dich deine Eltern loswerden wollen
Contributors:

Page:

10
So schaffst dui garantiert 1+ in jedem Schulaufsatz
Page:

13
Ein MAD Blick auf kleine Räder
Contributors:

Page:

16
MAD besucht einen Talentschuppen für Komiker
Page:

18
Duck Edwing reitet gen West
Contributors:

Page:

20
MAD Urlaubsführer - Amerika
Page:

23
MAD Verbesserungen für das Kino
Page:

26
MAD Report
Contributors:

Page:

28
Wie schön, daß es auf der Welt so viel Hilfsbereitschaft gibt
Page:

32
MAD Faltblatt - Wo findet man die grössten Clowns ?
Contributors:

Page:

35
Back Cover: Vorhin, bei Abu Simbel
Contributors:
This page was created on 12th May 2010 10:20 pm