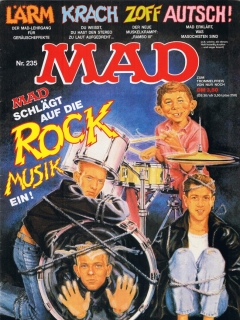 - The Don Martin Gag "Nebenan, im Waschsaloon" is from the Paperback "Don Martin Sails Ahead" and redrawn!

Table of Contents
Fragen sie Alfred & Leserbriefe & Die MAD Liste des Monats - Sowjetsatellit Kosmos 1900
Page:

3
Das MAD Museum der Rockmusik
Page:

4
Neulich, kurz vor Mallorca
Contributors:

Page:

7
Filmparodie - RAMMBOCK 3
Page:

8
Nebenan, im Waschsalon
Contributors:

Page:

13
Du weißt, daß du den Stereo zu weit aufdrehst...
Contributors:

Page:

14
Ein MAD Blick hinter die Kulissen in einem Versandhaus
Page:

18
Masochist ist einer...
Page:

20
MAD Methoden zum Einseifen von Oma und Opa
Page:

22
MAD Report
Contributors:

Page:

24
Entdecken Sie Ihr geheimes Talent als Autor von Kinderbüchern
Page:

28
MADs Anfänger-Lehrgang für Comic Sound Effects
Page:

29
Särge für den besonderen Geschmack
Page:

32
MAD Faltblatt - Welche Pflichtübung bereitete den Olympia-Sportlern die grössten Schwierigkeiten ?
Contributors:

Page:

35
Back Cover: Werbung - Kamel-Shop
This page was created on 30th April 2011 7:29 pm