Appearances of Winona Ryder in MAD
MAD Magazine #304 • USA • 1st Edition - New York
The first issue of MAD to feature Winona Ryder, #304. Sam Viviano captured her role in the Cher retro flick "Mermaids". Angelo Torres caricatured Winona Ryder and Johnny Depp for the Dick DeBartolo parody "Deadwood Scissorsham," which also ran in this issue.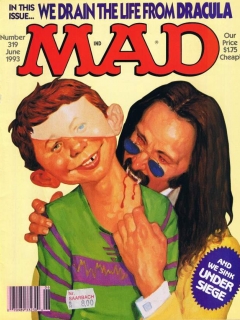 MAD Magazine #319 • USA • 1st Edition - New York
Winona Ryder in the MAD spoof "Drek-ula," Dick DeBartolo and Mort Drucker parody of the 1992 flick "Bram Stokers Dracula."
This page was created on 30th October 2015 12:26 pm
Last updated on 30th October 2015 12:26 pm