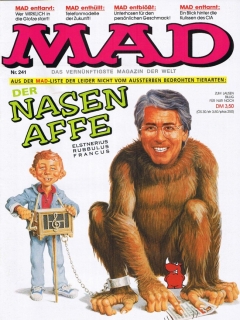 - The idea of the cover came from the US MAD No.112, July 1967

- The Don Martin story on page 4 is actually not drawn by Don Martim himself. An unknown German artist copied the style.
Table of Contents
Fragen sie Alfred & Leserbriefe & Die MAD Liste des Monats - Dinge, die die NPD & REP den Ausländer noch in die Schuhe schieben könnten
Page:

3
Vorhin, in der Innenstadt
Contributors:

Page:

4
Einschaltquoten, die uns wirklich interessieren
Page:

5
Richtige Parolen . am falschen Platz
Contributors:

Page:

8
Neulich, rechts vom Amazonas
Contributors:

Page:

10
MAD besucht die C.I.A.
Page:

11
Gleiche Worte ... verschiedende Bedeutung
Page:

16
Grusskarten für die ganz, ganz besonderen Anlässe
Page:

18
Die MAD Anschlagstafel
Page:

20
Unterhosen für den persönlichen Geschmack
Page:

21
MAD Report
Contributors:

Page:

22
Langeweile - Weltmeisterschaft
Page:

26
Vorhin, bei Madame Zonck
Contributors:

Page:

28
Telefon-Modelle die in naher Zukunft auf den Markt kommen werden
Contributors:

Page:

29
Gibt es etwas schöneres als ...
Page:

32
MAD Faltblatt - Welche neue Virus-Form verbreitet derzeit Angst und Schrecken ?
Contributors:

Page:

35
Back Cover: Im trüben gefischt
This page was created on 12th May 2010 10:20 pm