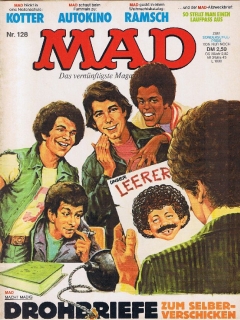 - The idea for the cover came from US MAD #189, march 1977. The cover is perfectly redrawn, except Rolf Trautmann shortened the hair of the persons.
Table of Contents
Leserbriefe & Fragen sie Alfred & Alfred des Monats - Rudi Carell
Page:

3
Neulich, am Hauptbahnhof
Contributors:

Page:

4
Filparodie - WELCOME BACK, KLAMOTTER
Page:

5
Wenn Computer-Symbole den Alltag beherrschen
Page:

10
MAD-Vorschau auf den diesjährigen Weihnachts-Ramsch
Page:

13
Vor dem Stress gibts kein entkommen !
Page:

21
Der Holzfäller - Wettbewerb
Page:

23
MAD Report - Festliche Tage
Contributors:

Page:

24
Gestern mittag an der Ecke
Contributors:

Page:

28
MADs grosse Autokino - Fibel
Contributors:

Page:

29
MADs Allzweck-Briefbaukasten - Beziehungsende
Page:

32
der MAD- Drohpostkarten
Page:

35
Back Cover: der MAD- Drohpostkarten
This page was created on 12th May 2010 10:20 pm