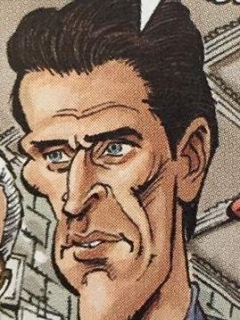 Country:

USA
Born: 22nd July 1955, Appleton, Wisconsin, U.S.
Appearances of Willem Dafoe in MAD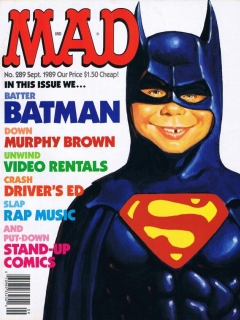 MAD Magazine #289 • USA • 1st Edition - New York
Willem Dafoe's first MAD appearance was connected to his portrayal of the title role in the controversial Martin Scorcese film The Last Temptation of Christ. It appeared in the first installment of the "MAD's Video Reviews" series, illustrated by Sam Viviano and written by Stan Hart for MAD #289 (September '89).
MAD Magazine #418 • USA • 1st Edition - New York
Artist Tom Richmond expertly captures Willem Dafoe as Norman Osbourne, James Franco as Harry Osbourne, Rosemary Harris as Aunt May (she'll always be the only real Aunt May to me), and Tobey Maguire as Peter Parker in this panel from the Dick DeBartolo-penned "Spider-Sham," which originally ran in MAD #418 (June '02).
This page was created on 19th September 2016 5:20 am
Last updated on 19th September 2016 5:20 am