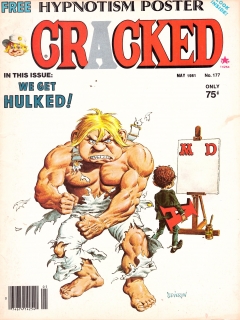 Series: Cracked
Company: Major Magazines
Publishing Date: 1st May 1981
Cover: In this issue: We get Hulked!
Cover Artist: John Severin
Original price: 75 cent
Pages: 52
Format: Magazine
This issue of Cracked magazine has an interesting spoof of MAD Magazine / Alfred E. Neuman on the front cover. The cover was drawn by John Severin, who worked also for MAD magazine before.
This page was created on 29th July 2016 8:27 pm
Last updated on 29th July 2016 8:27 pm