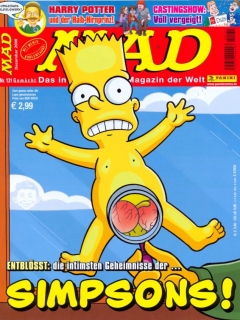 Series: MAD Magazine
Company: Panini Verlags GmbH
Publishing Date: 1st December 2009
Cover: Entblösst: die intimsten Geheimnisse der... Simpsons!
Original price: €2,99
Pages: 52
This issues has a hole in the front cover, in which you can see the balls of Bart Simpsons. By turning the first page, the reader realizes that the balls are in fact the weird eyes of Spongebob.
This page was created on 25th November 2009 8:07 pm