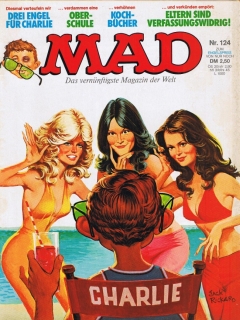 - First contribution by Apichai Bhakdibutr (as a Jack Davis imitator)
- First contribution by the Egyptian artist Amro, who was one of the best Don Martin imitators. The German editor Herbert Feuerstein wanted to establish him as the German Don Martin, but Amro leave the German MAD after a short time.
Table of Contents
Leserbriefe & Fragen sie Alfred & Alfred des Monats - Reinhold Vöth
Page:

3
Neulich, in der U-Bahn-Passage
Contributors:

Page:

4
Filmparodie - 3 MÄNGEL FÜR CHARLIE
Page:

5
Kuckucksuhren für den individuellen Geschmack
Contributors:

Page:

10
Eltern sind Verfassungswidrig
Page:

14
MADs Kratz - und Schnüffeltest
Page:

17
Der Sonntagsfahrer
Contributors:

Page:

20
MAD besucht eine Oberschule
Page:

21
Kochbücher die wir noch dringend brauchen
Page:

24
MAD Report - Haar-Probleme
Contributors:

Page:

26
MAD - Galerie der Widersprüche
Page:

30
Gestern, in Arizonas
Page:

33
MAD Faltblatt - Welcher Superstar ist die Hoffnung der Zukunft ?
Contributors:

Page:

35
Back Cover: Der Hündefänger-Comic
Contributors:
This page was created on 12th May 2010 10:20 pm