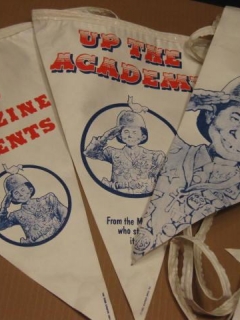 Click Image for Slideshow
Up the Academy is an American teen comedy film released in 1980, with a plot about the outrageous antics of a group of misfits at a military school.

The film was neither a commercial nor critical success when it was originally released, and was disowned by both the staff of MAD magazine and actor Ron Leibman (who, despite his sizeable role, had his name completely removed from the credits and promotional material). Besides paying Warner Bros. $30,000 to remove all references to MAD from the film when it was released on home video, MAD's publisher William Gaines issued personal handwritten apologies to every person that wrote the magazine to complain. However, the film developed a small cult following.[citation needed] Following Time Warner's purchase of MAD (and after Gaines' death in 1992), all references to the magazine were reinstated on cable television. In 2006, the original version of the film was issued on DVD.

Up the Academy. (2015, March 13). In Wikipedia, The Free Encyclopedia. Retrieved 14:49, May 25, 2015, from http://en.wikipedia.org/w/index.php?title=Up_the_Academy&oldid=651134164

This page was created on 26th March 2017 5:49 pm
Last updated on 26th March 2017 5:50 pm