Welcome, superhero geeks!
A collection of Superheroes Mad Magazine covers
Author: Simon Wilson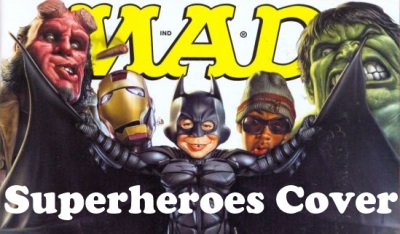 We know how it is. You manage to win an online debate after explaining in great detail how The Hulk could give The Thing an ass-kicking if he really wanted to, when some nerd manages to score points by having to remind you of the name of Thors magic hammer. The shame of it! Well your friends here at MAD Trash are here to give you more useless superhero trivia guaranteed to impress your friends if you had any. Here you 'll find every Superhero related cover from every MAD magazine, special or book published over the last 35+ yearsfrom MAD editions published all around the world!Ever wanted to know what the Hulk might look like if he was trapped in a phone box on the cover of Norwegian MAD? Or how many times Spidey made it onto the front cover of the Indian edition of MAD? If you 've answered 'yes ' to either question then you 're in the right place! You won 't know the full story of Spiderman, Batman or any of the other corporate cash cows until you 've spent perhaps minutes checking out these pages!
Help us keep these pages complete! If you know of any MAD Superhero items not includedcontact us here