The Alfred image in this picture belongs to the Antikamnia 1908 Calendar.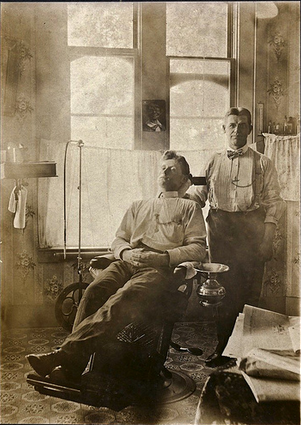 Vintage dentist photo found in Wisconsin a while back.
There are a lot of things to like about this one- the spittoon with stand, the newspaper (can't make out any of the words), and what I think is the 1908 Antikamnia Tablet Calendar hanging on the wall in the background (looks like Alfred E. Neuman). Looking at the gentleman who is the dentist, he sort of looks like Alfred E. Neuman which may explain why it is displayed in his office. At first, I thought this might be a barbershop photo. Looking carefully, you can see medicine bottles on the shelf in the background, a thermometer on the wall, and some type of medical apparatus just to the right of the man in the chair. Found in Wisconsin, date and photographer unknown.
Thanks to AtypicalArt for this image!